FOR IMMEDIATE RELEASE: October 31, 2022
Contact: Heather Jones
publicaffairs@victims.ca.gov
SACRAMENTO—To bring greater attention to the issues surrounding domestic violence and to provide extra support for victims, the California Victim Compensation Board (CalVCB) on Monday donated more than 100 bags of toiletry items to the Wellspring Women's Center in Sacramento.
During October, which is national Domestic Violence Awareness Month, CalVCB staff collected toiletry items for emergency to-go bags to help victims who are fleeing their abusers. Each bag contains items such as shampoo, soap, toothpaste and deodorant, for women and children who are rebuilding their lives.
Each year, thousands of women and men in California are victims of intimate partner violence. CalVCB offers resources for victims, including compensation for crime-related expenses, such as relocation, income loss, medical and mental health treatment, and residential security.
Wellspring Women's Center, which opened in Oak Park in 1987, is a drop-in center that nurtures vulnerable women and children with a variety of supportive services that include healthy meals, case management, free counseling, art therapy, enrichment classes and workshops, and safety net services. Wellspring serves nearly 200 women and children each weekday.
CalVCB Executive Officer Lynda Gledhill presented the donations to Wellspring Development and Communication Associate Jessica Mougharbel.
"Wellspring provides an invaluable service to the community with all the support it provides women and children who need it," Gledhill said. "CalVCB is dedicated to helping victims of crime. In addition to compensating them through our program, our staff wanted to do more during October for domestic violence survivors. We are glad to assist Wellspring, and the victims it serves, by donating these everyday necessities."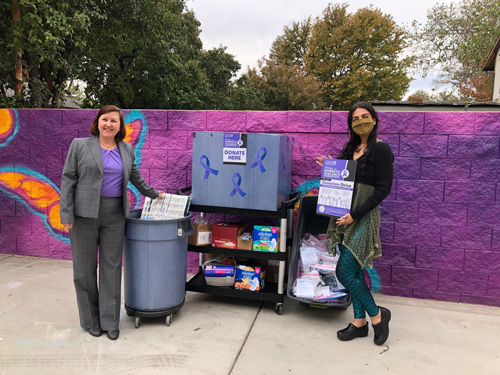 "Wellspring Women's Center is a small organization with a strong mission to provide hospitality with dignity and love to women and children in need," said Mougharbel. "Our center runs on the generosity of our community, and we are incredibly grateful for the team at the California Victim Compensation Board and their help in offering the essentials to our community."
Domestic violence increased during COVID-19 and has resulted in a "shadow pandemic," according to a study from United Nations Women.
In fiscal year 2021-22, CalVCB received nearly 7,700 applications from domestic violence victims and provided almost $7.7 million in compensation. Emergency awards are available for those who qualify.
For more information, go to victims.ca.gov. For immediate help, call the National Domestic Violence Hotline at 800.799.SAFE (7233).
###
The California Victim Compensation Board (CalVCB) provides reimbursement for crime-related expenses to victims who suffer physical injury or the threat of physical injury as a result of violent crime. CalVCB helps crime victims and their families cover unforeseen expenses such as medical bills, mental health treatment, funeral and burial expenses, income loss and more. To learn more about CalVCB, visit victims.ca.gov.